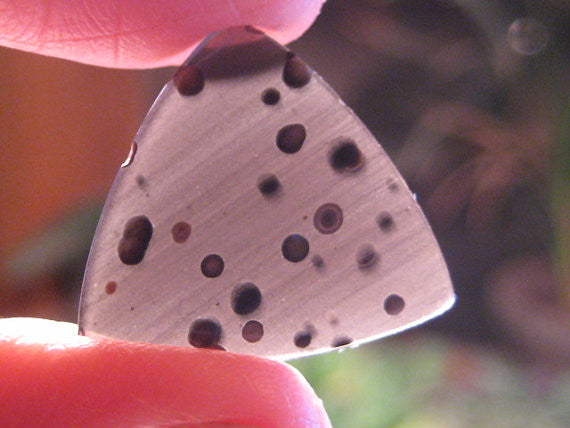 Watch this space! One of the things I love most about making jewelry is learning about and hunting for new and unique stones. Each one is like a tiny work of art- by Mother Nature! 
Take this amazing Cosmic Obsidian for example. When viewed with transmitted light it becomes semi-translucent with black spots. When set in beautiful 14K white gold and hanging from your neck...it looks black with white spots. Pretty Cosmic wouldn't you say?
This material has been found in a very small quantity in the volcanic Italian island: Lipari, near Sicily. The obsidian from this location is well know since Roman times, though this variety is quite rare. The small globular inclusions are made of rhiolite slightly different from the matrix. Deep testing on micro crystals reveals elements such as pirossen and ulvospinel. The result is wonderful: it looks like a view into deep space.